Free Synagogue of Flushing
41-60 Kissena Blvd. | Flushing, NY | 718-961-0030 | freesynagogue.org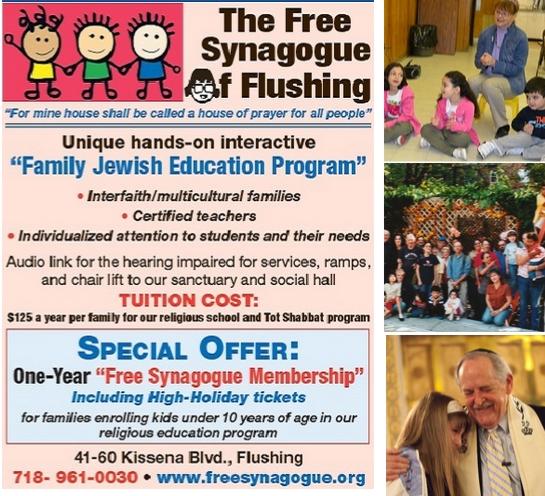 FSF Family Jewish Education Program
Tot Shabbat Tot Shabbat is a wonderful start for children to begin their Jewish education. The class has a taste of holidays' and Jewish history, which brings together the excitement of learning and activities at an early age. Each class incorporates a lesson, a related craft activity and a snack that is tied to the topic of the day.

FSF Family Jewish Education Program is a hands-on, experiential learning program primarily for families with children in elementary and middle school, leading up to Bar & Bat Mizvah. It meets two Sundays each month and , in conjunctions with Torah study and Hebrew, satisfies the religious education requirement for the students in our B'nai Mitzvah program. It is open to all members of FSF as well as families from the community at large. The class is for parents and children. It is a cohesive program that deals with the biblical, historical and cultural aspects of Judaism. It is a wonderful program for interfaith families and for those parents who may feel that their own religious education may have left them with unanswered questions. Participants should be committed to attending all classes. There are separate learning experiences for the children and adults, with time to share what each group has learned. The classes are taught by Rabbi Weisser and our faculty members.

Torah/Bible Study. This class meets two Sundays each month, alternating with the Family Education class. It is primarily for the students studying Hebrew. The beauty and meaning of the Torah and Bible are brought to life through reading, music, art and discussion.

Hebrew classes meet each Sunday before Family Education and Torah study. Most children begin their Hebrew lessons at around age 8 or 9 so that they have adequate time to become proficient and practiced in the knowledge and skills they need to conduct a Shabbat service and chant Torah and Haftarah for Bar/Bat Mitzvah. We can accommodate older children as well. Our lead teacher for these classes has taught Hebrew, Torah and Jewish history and culture in a variety of venues, from summer camp to synagogue religious schools to the 92nd Street Y. She is currently a rabbinic student at the Jewish Theological Seminary.

Bar & Bat Mitzvah Preparation. During the year leading up to Bar or Bat Mitzvah, our students meet weekly with Cantor Pearlston. During this time they learn their individual Torah and Haftarah portions and get intensive practice with the prayers that are part of the Shabbat service they will led on their special day. Students will also meet with Rabbi Weisser as they prepare their D'var Torah (commentary on their Torah portion).

Confirmation. Jewish learning is a life-long experience. Our students don't stop once they read from Torah at their Bar or Bat Mitzvah. We offer them the opportunity to continue their journey in our Confirmation program in which they will discuss how to deal with the many challenges life presents from a Jewish perspective. The program puts to full use the wide range cultural opportunities available in the Five Boroughs. Our teacher for this class taught high school in NYC for many years. She taught the Confirmation class at Free synagogue for many years and we are thrilled to reintroduce this class for the 2011-2012 school year.