Hanson Place Orthodontics
One Hanson Place, Suite 707, Brooklyn | 718-622-2695 | www.hansonplaceortho.com
Hello everyone! Thank you for taking the time to visit Brooklyn's Hanson Place Orthodontics.
Our patients know that we take smiling very seriously. First of all, the goal of this office is to offer you the highest standards of orthodontic care in Brooklyn NY. But we also believe that the key to successful orthodontics is providing a fun and pleasant patient-focused treatment, based on open communication and true partnership.
At Hanson Place Orthodontics in Brooklyn NY, Dr. Eisenberger and the dedicated staff treat patients of all ages, including children and even adults! We know that orthodontic treatment can dramatically improve patients' appearance and self-esteem, so we're always here to help you select the right dental treatment. We offer a full range of traditional and invisible braces including OrthoClear, Invisalign, lingual braces and Mystique Ceramic braces.
Please feel free to browse our website and learn more about orthodontic care and treatment options, braces, oral hygiene and our local orthodontist in our brooklyn office. You are more than welcome to contact us anytime via phone (718) 622-2695 or email us at info@hansonplaceortho.com with any further questions.
If you want to visit us, our state-of-the-art office is conveniently located at One Hanson Place, the famous Williamsburg Savings Bank in Brooklyn, just steps from the Atlantic Terminal.
Remember that a new smile can begin today!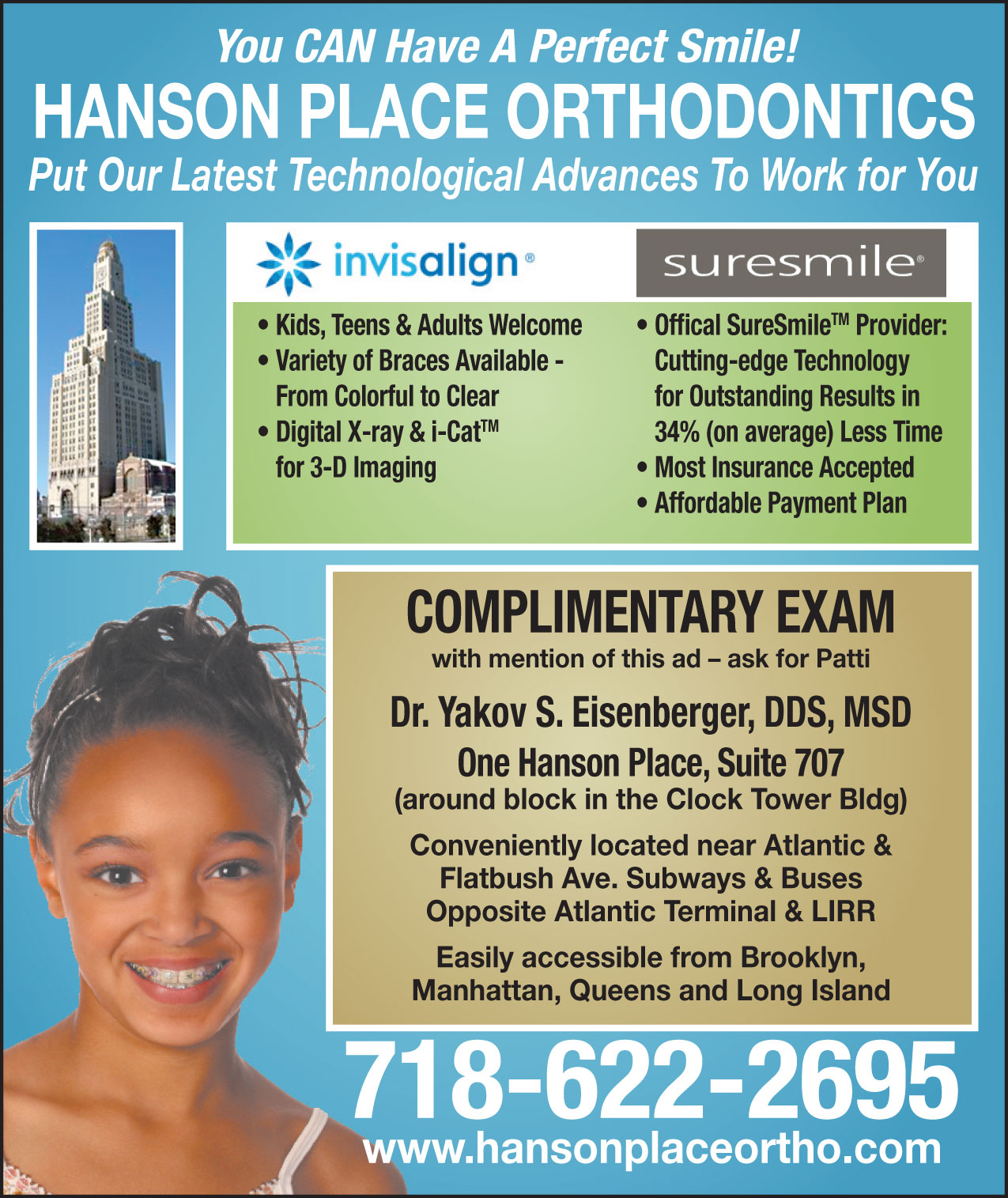 Please take a minute to print and fill out the patient information form before your first appointment: