Lighthouse International
111 E. 59th St. | 212-821-9200 | lighthouse.org/school
The Ethel and Samuel J. LeFrak School and Children's Services Programs at Lighthouse International
A Quality, Fun Preschool with Special Education Services and Universal Pre-Kindergarten for Everyone!
Lighthouse International welcomes boys and girls from two through five years to attend our integrated preschool which is also approved as a Universal Pre-Kindergarten program by the New York City Department of Education.
Children who are visually impaired learn alongside their sighted peers in our preschool for a more enriching educational experience. Our curriculum is designed to maximize learning and growth while children enjoy creative and fun activities, make new friends and discover new experiences in a safe and nurturing environment. A smart, convenient choice: We have a certified, highly trained and nurturing staff, a small teacher-student ratio and reasonable fees.
Featuring:
• An extended-day preschool option, which runs until 5:30 pm
• A maximum of 12 students per 1 teacher and 2 assistants
• Master's Degree level teachers; teachers of the visually impaired; speech, occupational and physical therapists; and music teachers
• Well rounded, fun activities: extensive early childhood curricula, physical education, strong emphasis on literacy, outdoor play area, neighborhood field trips and community outings
• Computers in every classroom, with age-appropriate programs
• Multi-lingual staff
• New Lighthouse Parent Center which offers extensive training, classes, workshops and fun events for all parents of Child Development Center students. The Center is run by a Parent Coordinator, with a high level of decision making by parents from the school's Parent Focus Group.
• Parent Center toy and book lending program
Learn More — Enroll Today! For additional information, or to make an appointment to visit our facility, call (212) 821-9604 or visit www.lighthouse.org/school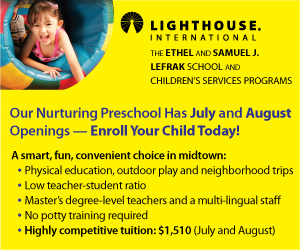 Back to School 
The Ethel and Samuel J. LeFrak School at Lighthouse International offers a quality preschool with special-education services, and universal Pre-Kindergarten for everyone. We welcome children ages 2-5 years to attend our integrated preschool, where visually-impaired children learn alongside their sighted peers, for an enriching educational experience. Our curriculum is designed to maximize learning and growth in a safe and nurturing environment. We offer a convenient midtown location, a certified, highly trained, and nurturing staff, small teacher/student ratios, and reasonable fees. Enroll today! Call 212-821-9604 or visit lighthouse.org/school.
Read more about Lighthouse International
LIGHTHOUSE INTERNATIONAL LAUNCHES 
'WILL I BE ABLE TO READ' CAMPAIGN  
(NEW YORK—11/8/12) 'Will I Be Able to Read?' is the question that someone diagnosed with macular degeneration, glaucoma, retinitis pigmentosa, or other eye diseases always asks. Lighthouse International, the leading nonprofit organization fighting vision loss through prevention, treatment and empowerment, is beginning a new advertising campaign entitled, 'Will I Be Able to Read?'
The campaign's focus is to let those with vision loss, as well as their families, caregivers, and loved ones, know that there is help, hope and resources available to enhance their quality of life and enable them to live safely and independently.  Lighthouse International offers many services and programs that help people of all ages overcome the challenges of vision loss.
Ads will appear in subways throughout New York City from the beginning of November through the beginning of December. The ads will appear in about 1,000 different subway cars and are estimated to reach an approximate of 64,094,000 people.
Lighthouse International programs and services include:
Low vision exams expert eye doctors and visual aids to help maximize remaining vision.
Instruction and guidance on accessible technology
Rehabilitation services to restore safety and independence for people whose diminished sight puts them at risk of injury, job loss and other disabling consequences.
Social services to help with the emotional and life-altering challenges of vision loss.
Music school — the only community music school for people with vision loss in the US — offering accessible instruction and a music technology center.
Pre-school –for children who are visually impaired learn
Advocacy on behalf of people with vision loss both nationally and internationally
The Lighthouse relies on the generosity of individuals, corporations, organizations and foundations to support programs and services.