Sterling Hills Mine Tour & Museum
30 Plant Street | Ogdensburg, NJ | 973-209-6463 MINE) | www.sterlinghillminingmuseum.org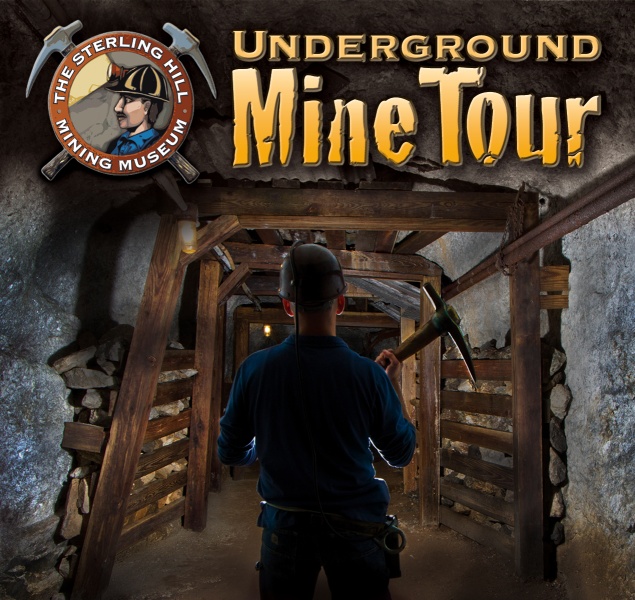 Sterling Hill Mine:  Step Into Earth Science

Most everything man made has something to do with mining. At the Sterling Hill Mine and Museum we'll show you just how it's done. From drilling and blasting to the processing of the ore, we've got it all! Come take a ¼ mile underground walking educational adventure into the 4th oldest mine in the country and the last working underground mine in NJ. Along the way you will see a mining equipment history display, a drilling and blasting demonstration and the world famous and unforgettable fluorescent "Rainbow Tunnel" where everybody gets to take home a fluorescent mineral specimen.
Right here in NJ is one of the worlds richest zinc ore deposits. The area boasts over 350 minerals, about 70 of which fluoresce, that's about 10% of all known minerals in the world found right here in New Jersey. As well as the richest fluorescent mineral deposit in the world.
You can collect minerals from all over the world, including fluorescence, yourself any day the museum is open 10am to 3pm.
Rock Discovery Center for groups or Sat-Sun at 12 noon either after the 10am tour or before the 1pm tour (children 6-12). Scouts A+ 
Fossil Discovery Center, See our website for our Saturday schedule (children 6-12). 
Astronomical Observatory, See our website for membership to the Sterling Hill Astronomy Group.
The 2 hour guided tour includes 1 hour inside the mine, 30 minutes in our 5,000sf mining history exhibit hall which features a one of a kind Periodic Table of the Elements with Actual Elements and 15 minutes in the Museum of Fluorescence.
Regardless of the season it is always a cool 56 deg inside the mine, a light jacket and comfortable walking shoes are recommended.
Sterling Hill Mine is  a non profit educational foundation.
Rain or Shine.
Handicapped accessible.
Miner's Lunchbox,Snack Bar.
Miner's Pick, Museum Store.
Free Parking and plenty of room for buses.
Tour groups, School groups, Campgrounds and Birthday Parties Welcome.
Just 1 hour drive from NYC.